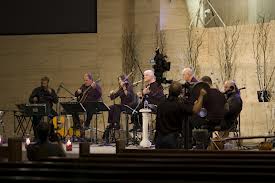 It's nearing that time again when we look forward to looking back to whence we come, and to who we were, are, and will be.
Confusing? Maybe. But if you need assistance in sorting it out, Kemper Crabb – Downe in Yon Forrest: Christmas From the Middle Ages is here to help. This live concert, available in CD, DVD, and quite possibly in your very presence, creates a timeless yet familiar musical bridge from the Middle Ages to the present, presenting some the greatest hits of the Western canon, that will enhance your late autumn yearning.
Follow the link above for more information.